DOWN IN THE VALLEY…
 The Pynk was full of stars for the P-Valley Season 2 Premiere in Los Angeles, CA.
-Malik Pollard.
"Down in the valley where the girls get naked..."
On Thursday, June 2, STARZ celebrated the world premiere of "P-Valley" season two with an energetic, neon-filled premiere event at the Avalon Hollywood in Los Angeles.
In attendance were series stars Nicco Annan, Elarica Johnson, Brandee Evans, Shannon Thornton and J. Alphonse Nicholson, as well as creator, executive producer, and Pulitzer Prize winner Katori Hall.  Grammy Award-winning artist Megan Thee Stallion, who collaborated on a new original song featured on the soundtrack of the sophomore season, joined the celebration. Musicians the City Girls, actors Charlie Hunnam, Wendell Pierce, Emmy Raver-Lampman, Elvis Nolasaco, Savannah James, Tasha Smith and many more were also in attendance at the star-studded event. Additionally, talent from STARZ's other hit series including "Gaslit," "Run The World," "Blindspotting," "Power Book II: Ghost" and "Power Book IV: Force" came to toast the return of the critically acclaimed drama.
Additional cast members at the event included Harriet D. Foy, Dan J. Johnson, Psalms Salazar, Gail Bean, Morocco Omari, Jordan M. Cox, Skyler Joy, Dominic DeVore, Miracle Watts, Brandon Gilpin, Bertram Williams Jr. John Clarence Stewart, Josh Ventura and Blue Kimble, as well as co-executive producers Patrik-Ian Polk and Nicole Jefferson Asher.
The evening began with a lively pink carpet, and remarks from Kathryn Busby (President, Original Programming at STARZ) and series creator, executive producer and Pulitzer Prize winner Katori Hall. During her introduction, Busby raved about the groundbreaking series, saying, "This show has created a platform where stereotypes are pushed aside and the conversation is centered on visibility and truth. Hall also shared, "I felt that I needed to turn P-Valley into a mirror, into a reflection of things that we have [gone] through these past two years, and that's why I felt like it was my responsibility to embrace, in season two, the fact that we did this pandemic," adding, "This season is deeper, is darker, but let me tell you something, it's a thousand percent better." The introduction was followed by a screening of the highly anticipated premiere episode, which was received with a roaring round of applause. The Pynk was then brought to life with a bustling reception filled with southern-style food including shrimp and grits, crab cakes and mac & cheese, specialty cocktails, music from DJ Domo, costumed dancers and a "P-Valley" themed photo opp. 
It was a night to remember and surely the best way to bring back season 2 after the long wait; but We KNOW WHAT YOU WANT: YOU WANT MADFLAVOR TV's TOP 10 LOOKS FROM THE NIGHT.
MadFlavor TV's Top 10 Looks from the Red Carpet. Do you Agree?
Photo by Michael Kovac/Getty Images for STARZ

Psalms Salazar "Whisper"

Psalms may be the newbie on the block to The Pynk, but she rocked the red carpet like a seasoned pole technician. She says Whisper is all about the money and dont want to cause any trouble, but we have a feeling she will be bringing all the smoke and gunning for that number one spot. Mississippi better watch her back.

Photo by Michael Kovac/Getty Images for STARZ

Josh Ventura "Wayne Kyle"

If Wayne Kyle is anything like Marty and Wendy Byrd (Ozark) then The Pynk better watch out. They may have won the battle (thanks to Autumn Night), but they may not win the war.

Photo by Michael Kovac/Getty Images for STARZ

Elarica Johnson "Autumn Night"

We love the way the pink just shimmers off of Elarica's dress. Is it just us, or does that dress totally Autumn's personality. Its giving us mystery, and we can only imagine the mystery that Autumn has yet to reveal.

Photo by Michael Kovac/Getty Images for STARZ

Nicco Annan "Uncle Clifford"

Nicco said Im going to give you a little Uncle Clifford tonight with this fitting Pink ensemble. But hold up Nicco, what are the brass knuckles for? Looks like Uncle Clifford is ready to strap up and knock a few 'ninjas' out! Someone must've gotten the game twisted, and between Casino Referendum, Big L. shady dealings in the parking lot; Autumn Night taking ownership of the club; Lil Murda' getting brand new; and that mess on aisle 13 where somebody caught a bullet, I think Uncle Clifford might just go "Rat Ta Tat Tat" to somebody's head.

Photo by Michael Kovac/Getty Images for STARZ

Shannon Thornton "Miss Mississippi"

Em. Eye. Crooked Letter. Crooked Letter Eye…

We got questions! "Is Mississippi in it for the money or is she in it for the fame?" "And what is up with you and Diamond, especially after you pulled a gun on him?" "Is Rome gassing you, and how far are you willing to go?" "The Newbies are coming for you, what you gonna do?" Girl you stressing us out; But you still our damn favorite (lol).

One thing is not to be questioned is how Shannon Thornton hit the Pink Carpet in this fierce flowered body suit.

Photo by Michael Kovac/Getty Images for STARZ


J Alphonse Nicholson "Lil Murda"

J Alphonse kept it clean cut all around even down to the line up on his fade. We have to admit, black men really know how to set off a suit. His lapel pin had a touch of pink from what appeared to be a hummingbird, which was a nice touch.

I guess this is the Grown Man-ish that Lil Murda is going to give us this season as he gets on his serious music grind. J Alphonse admitted to MadFlavor TV that though musically he is/was a drummer and not a rapper, he studied some of Hip Hop's legends and the music this season "IS CRAZY!" We cant wait to hear it.

Photo by Michael Kovac/Getty Images for STARZ


Blue Kimble "Rome"

Blue came on the Pink Carpet rocking is "Paint Pink" as he called it. And we 'dig' it. Its giving summer vibes, and fits for an afternoon Rose' Party or Derby mood (or in this case a down in the Valley Soiree).

Blue said we are NOT ready for Season 2; or Rome. and Judging by the look he is giving, we see deception all over his face. Its gonna be interesting Rome and Mississippi; Rome and Lil Murda; Rome and Hell Er'body!

Photo by Paras Griffin/Getty Images for BET


Megan THEE Stallion

I swear Megan hit the red carpet and everything just stopped. For like 10 minutes it went into slow motion as she just walked across the back of the carpet. It was just flash bulbs and photographers yelling, "Over here!" Over here!" but like slower, "OOOVEERRR HEEEREEE!" That's when MadFlavor TV caught her out the corner of our lenses eye. At first we didnt even get to see her dress, but we knew it would be on point. Megan met the assignment, no doubt.

Also, her song collaboration for season 2 meets the assignment, and as we were told by so many, P-Valley season 2 is bringing back the days of classic TV/Movie soundtracks.

Photo by Michael Kovac/Getty Images for STARZ

Miracle Watts "Big Bone"

Those of…[clears throat] you that attend strip clubs know that its that one bartender; That one hostess or bottle girl that they bring to the VIP that has the gift to keep the bottles flowing. It is usually the "big Bone" girl (lol).

Miracle wouldnt give up too much back story on her character on P-Valley this season but one thing we know for sure, if she is in the scene, its gonna be drink worthy. on a more important note, she looked fabulous and was absolutely glowing in the Pink Carpet.

Photo by Michael Kovac/Getty Images for STARZ

Brandee Evans "Mercedes"

I mean was there ever a question on who would slay the Red Carpet the best. The theme may have been Pink, but the Red is all Mercedes. Brandee Evans walked in and took over that carpet just like an O.G. in the game would. She 'aint' no "new booty" to this, and she had to remind them just who TF Mercedes is.

Plus it was Brandee Evans birthday in real life, and tonight she was a true Gemini and embodied like5 different personalities on the Carpet: Fiery, Sexy, Demure, Bold, and you guessed it; "A BOSS" and according to Brandee, (paraphrasing) "You about to see Mercedes make some moves on her business ish."
YOU GOT QUESTIONS!!!
And we not trying to be funny. Actually some of these are serious and may be of a sensitive nature. P-Valley in all its' greatness and memorable moments gave us great anticipation for season 2 on Starz ("P-Valley" Season 2 Premieres Friday June 3 on the STARZ app, STARZ streaming and on-demand platforms and internationally on the STARZPLAY premium streaming platform across the UK and Latin America. On linear, it debuts on STARZ at 9pm ET/PT in the U.S. and Canada. New episodes will premiere every Sunday at 10pm ET/PT.). However still, YOU GOT QUESTIONS…
Question #1: Are you Team Uncle Clifford or Team Autumn Night?
Look, maybe he was working. Geesh.
Question #2: Where is the Baby Daddy?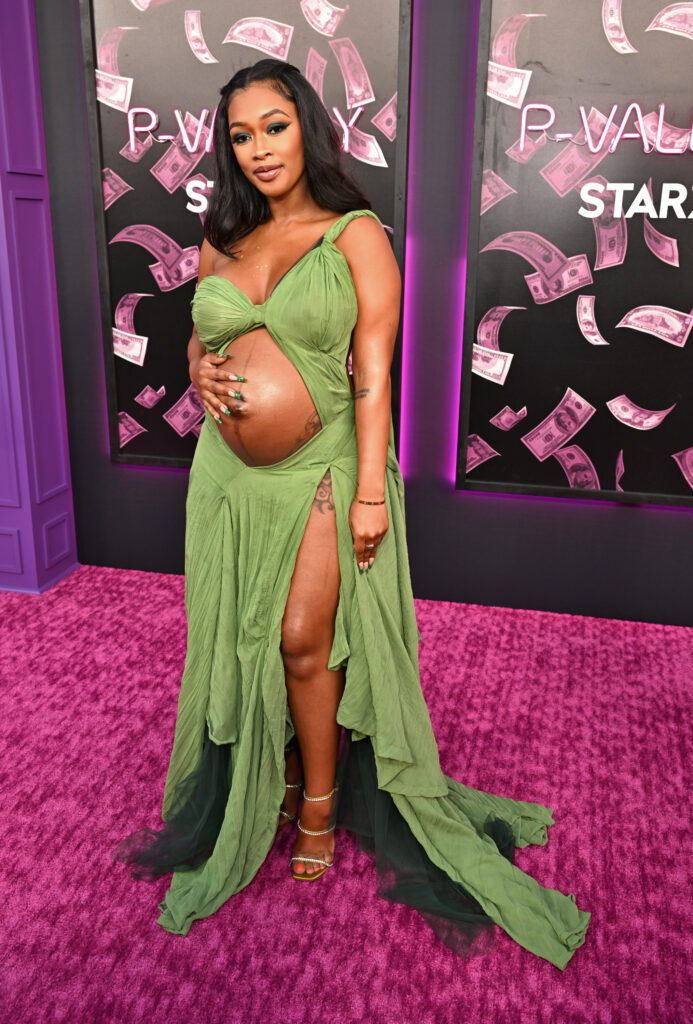 Maybe He is working. Geesh. I mean the baby is due in September, and there is a baby formula shortage. #GetToWork
Question #3: Whisper vs. Mississippi?
They "say" they both are going to play nice. What do you believe?  
Question #4: What are your predictions for Season 2?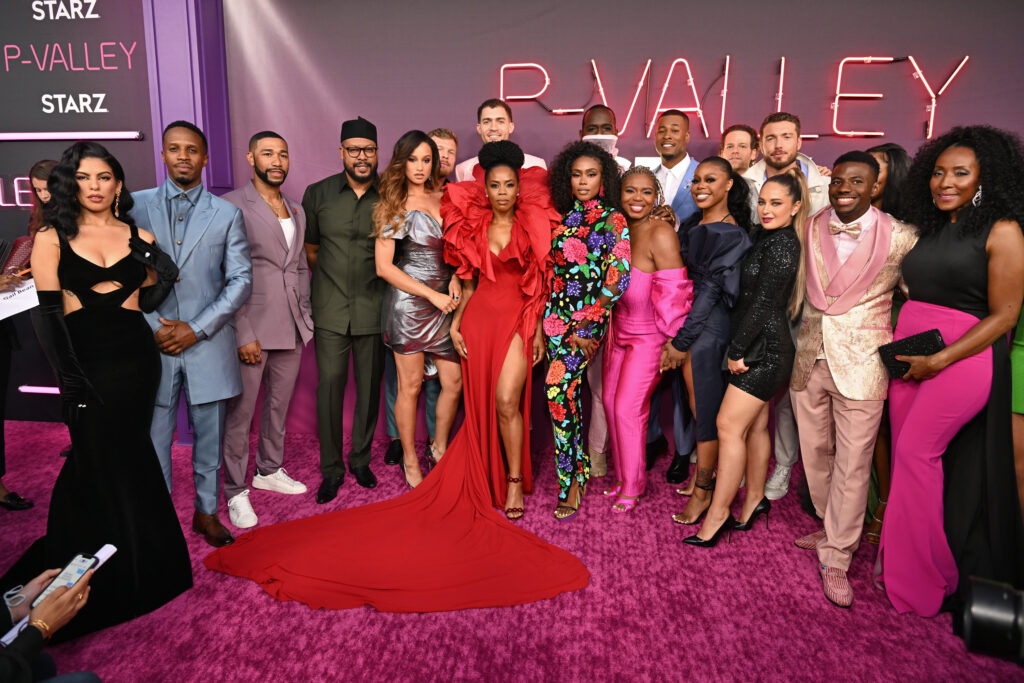 I mean there is a lot to unpack for season 2. We want to know what are your bold predictions? 
Photo by Michael Kovac/Getty Images for STARZ