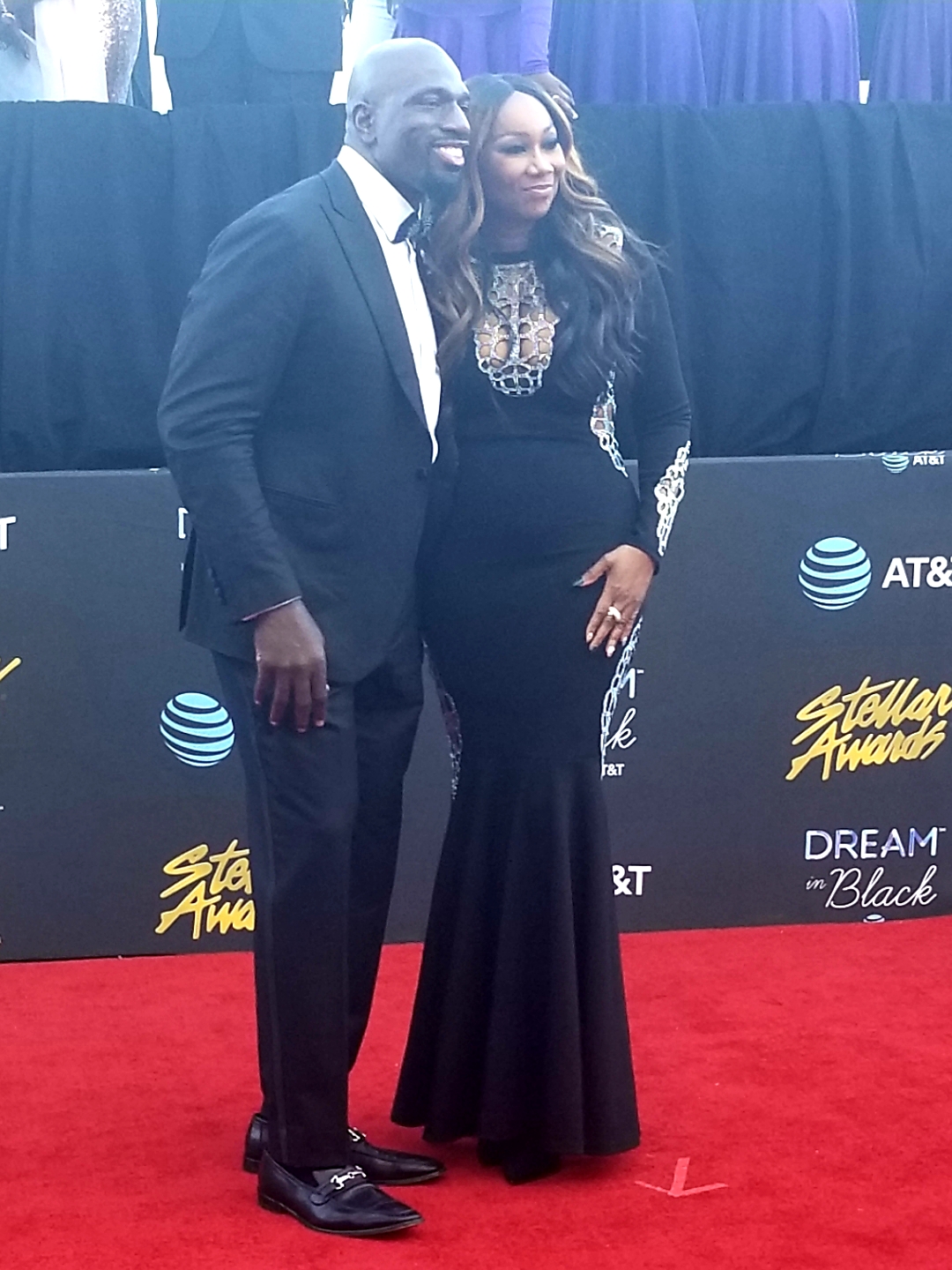 GRAMMY AWARD WINNER & GOSPEL POWERHOUSE YOLANDA ADAMS SPOTTED HOLDING HANDS ON THE RED CARPET…
-Tamiko T.
Friday, March 30th the 34th Annual Stellar Awards took place at The Orleans Arena in Las Vegas, NV and Gospel sensation Yolanda Adams arrived to the red carpet with her nephew Pastor Keion D. Henderson and a mystery man…
Yolanda not only looked lovely as ever and carried a HUGE smile as her best accessory…We can guarantee she was obviously gushing over a TALL glass of chocolate milk who we recognized as Pro Wrestler Titus O'Neil. Yolanda and Titus were holding hands and posing for pics as they both complimented each other in black.
Titus played the back while she introduced her nephew who is a Singer|Pastor and will be releasing new music soon. Just as much as she praised the success of her nephew, her smile for Titus was just as evident. The two have been also spotted at a few events lately so of course MadFlavor did a little digging. Our MadFlavor sources have told us that Titus O'Neil (whose real name is Thaddeus Bullard) and Yolanda Adams met at a WWE Raw match in Houston Texas. Titus inducted Ms. Adams into his Titus Worldwide Club. So while Jay-Z may have the "Hottest chick in the Game" wearing his chain, Titus has one of the most successful Gospel Music Artists wearing his T-Shirt; and the two have been "chummy" ever since. Also, Yolanda has been confirmed to be singing "America The Beautiful" at WrestleMania 35 on April 7, 2019. Coincidence? We think not…but definitely a POWHER Move! Get the man and make the coin Ms. Adams.
YAAASSS…We see you Yolanda! Sometimes a good man can make that SMILE different. We are hoping to see more of these two.
I AIN'T THE ONE TO GOSSIP…SO YOU AIN'T HEARD IT FROM ME…(In our Benita Buttrell voice from In Living Color)
So honored and Happy to have @yolandaadams as my guest here at @wwe #RAW tonight ❤️Her❤️ #titusworldwide pic.twitter.com/zPwxDPsknE

— Titus O'Neil (@TitusONeilWWE) June 5, 2018
Had an Excellent time at the @TheStellars last night with some AMAZING people including this Beautiful Woman @YolandaAdams IT'S Now @WrestleMania Week as I'm excited to not Only be competing, but also to see @YolandaAdams Perform on The Grandest Stage of them all!!#WrestleMania pic.twitter.com/t31GvEqot5

— Titus O'Neil (@TitusONeilWWE) March 30, 2019