The Cultures BIGGEST Night Returns LIVE!
 The BET Awards 2021 was a whole vibe!
-Malik Pollard.
The BET Awards 2021 brought The Culture out in style on June 27, 2021, and it felt like a celebration of a new Renaissance movement with all that 'Blackness'!
June 27, 2021 | LOS ANGELES CALIFORNIA–Black on Black on Black on Black on Black on Black on Black, and definitely BEAUTIFUL; The Culture's biggest night returned live at the Microsoft Theatre and it was THEE post pandemic celebration that will be talked about for a very, very longtime. Kudos to BET for once again showing the world just how Beautiful our hue is, and how "no one parties like a BET Party 'cuz a BET Party dont stop!" And wont stop. 
During the Pandemic, BET was the first to bring us a virtual Award show, and post Pandemic, BET is the first to bring the return of a Live Awards Show, and the world couldn't have asked for a better display of  music, fashion,  and 'The Culture'. BET masterfully crafted a socially distanced show where before you were allowed at the door, security made sure you were fully vaccinated, and had a recent (within 48 hours) COVID Test. Pretty much everyone adhered to the socially distance mandate unless your name was DJ Khaled, City Girls, or Ruff Ryders. DJ Khaled enlisted an A-List Gang of musical geniuses who would not be denied sharing the stage. DJ Khaled lit up the stage with a jam-packed performance of his new songs, "Every Chance I Get" and "I Did It," with an all-star line-up including Lil Baby, Lil Durk, Megan Thee Stallion, H.E.R. and DaBaby. I cant lie, it was pretty dope. Khaled, you continue to get another one for sure. City Girls performed "Twerkulator" with about 1000 booties on stage. Okay, maybe I am exaggerating just against a tad, but we know them booties were six feet apart, and "I aint mad at that". The song; well, I'm sure after some Tik Tok videos it wont bother me as much. The Dogs came out to pay homage to their general DMX appropriately with the Ruff Ryders, Motorcycles, ATVs, and a lot of classic Hip Hop energy. Method Man set the mood opening up with a performance doing an a cappella version of DMX's major label debut single, 1998's "Get at Me Dog." Actor Michael K. Williams appeared embodied DMX fully as he spit "Slippin." If there were ever to be a Biopic of DMX, you found your man in Williams. Next, the stage opened up for a massive finale that included Swizz Beatz and The Lox leading a rendition of "Ruff Ryders Anthem" and Busta Rhymes barreling through "Up in Here."
There were so many classic and memorable moments on the BET Awards stage that it would be impossible to recant them all. Our only advice would be, if you missed the show on June 27th, make sure you watch the rebroadcast because we know there will be a rebroadcast. MadFlavor TV had an opportunity to attend the virtual Press Conference (by the way which was also dope), and we asked your favorite artists to recant to us their best/favorite musical memory; And we must say BET Awards 2021, Post Pandemic is one of ours.   
MadFlavor TV's Top 10 Looks from the Red Carpet. Do you Agree?

Photo by Paras Griffin/Getty Images for BET

Gabrielle Dennis (Black Lady Sketch Show/The Upshaws)

Hands down the Best Dressed on the BET Awards 2021 Red Carpet. Not that this is a competition for a winner, but Gabrielle Dennis is the Winner!

Photo by Paras Griffin/Getty Images for BET

Big Latto

Big Latto channeling Jessica Rabbit vibes on the Red Carpet of the BET Awards 2021. 

Photo by Paras Griffin/Getty Images for BET

Ashanti 

Look! Ashanti never misses a beat. The "Oh Baby" star has become a fashion Icon for The Culture, and we are confident that her team will always have her slayed. 

The question we have is…

"Is that a ring on her ring finger?" Fashion statement or engaged? You be the judge. 

Photo by Paras Griffin/Getty Images for BET

DJ Envy

We Love it! Classic yet progressive. Very Clean, and tailored, slim fit Tuxedo with a mock neck, and matching shows. Thumbs Up to you Mr. Envy.

Photo by Paras Griffin/Getty Images for BET

 Michael Kenneth Williams

On Stage he was DMX personified. On this BET Awards Red Carpet, he IS Michael Kenneth Williams decked out on a thousand. The Silver pinstriped and Black suit just plays so well with his skin and salt n pepper beard.

We are loving it Mr. Michael Kenneth Williams!

Photo by Paras Griffin/Getty Images for BET


Diamond Platnumz

If we truly believe "The Culture" is not just a statement, but a movement, then we must fully represent what it means to be The Culture and get a 360 view and understanding that the African Diaspora is global. We must appreciate, embrace, and educate on our roots. It is these roots that are the foundation for the Culture in which we often speak. 

Photo by Paras Griffin/Getty Images for BET


Taraji P. Henson

MadFlavor TV loves Taraji. She does no wrong in our book. So maybe we are a bit biased. We loved all of her outfit changes. We loved the fact that she played Rare essence in her playing Spades at the Card Table skit. She just a down ass chick, and we love her. Deal with it!

Photo by Paras Griffin/Getty Images for BET


Megan THEE Stallion

Body! What else needs to be said. She didnt over do it. Classic off White, and we got some hip and thigh! Oh,and we know you sang the song when you read Body…LOL.

Photo by Paras Griffin/Getty Images for BET

Jazmine Sullivan

Jazmine just glowed the whole night. From the red carpet subtly showing off her figure, to receiving her Album of the Year honor with her mom present. You could just see the joy and happiness on her face. 

Photo by Paras Griffin/Getty Images for BET

Saweetie

"Okay Saweetie!" Sounds like something your Auntie would say while she snapping her fingers three times right (lol)? But Okay Saweetie, you did that; Looking like a Genie in a bottle that we all want to rub.
WE GOT QUESTIONS!!!
And we not trying to be funny. Actually some of these are serious and may be of a sensitive nature. The BET Awards 2021 in all its' greatness and memorable moments gave us a great celebration. However still, WE GOT QUESTIONS…
Question #1: Whose tongue do we like More?
Megan THEE Stallion or JT from City Girls
Question #2: Is Lil' Kim silently Screaming for help?
Please don't misunderstand this as body shaming or anything like that. Self image and self care is important. we keep hearing people say that all the time. So when you see what Lil' Kim has transformed her body into, you have to wonder if she sees herself in a way that stems from trauma, depression, or lack of self love. Dont read this as an expert opinion, but I would think that there is someone in her corner that would wonder the same and have some concern. Too many celebrities surround themselves with 'yes men' that will just go along and be along. We have to love up on our people and check on them and be real with them even when its not comfortable.
You still the Greatest Kim! 
Question #3: IS THE CULTURE READY?
We posted this question because Lil Nas X tribute to the Legendary Michael Jackson had the pressroom talking. I will admit, the kiss (excuse me, the French kiss) at the end of the performance shocked most of us for a moment; And it got me to thinking: 
Before I continue, let me give the disclaimer that my views are not a representation of MadFlavor TV Show. 
Okay, with that said, it got me thinking about "The Culture". We have used this word out in this article, but it is a phrase that has become a part of us now. So we cant just use it when it is convenient. If we are honest, Black Culture is also guilty of not always being accepting. Especially when it comes to the LGBTQ Community. Hell some people make fun of that term. "LGBTQ (m, n, o, p or x, y, z)", yeah it may sound like a joke, but it is borderline insensitive as well.  You would think that an oppressed people would have more understanding. However this is not always the case. So the question is simple, "Is the Culture ready to accept the LGBTQ Community and embrace 'Pride' as apart of the culture?" Lets take it a step further, what are your thoughts on "The Kiss" and on what Lil Nas X is wearing?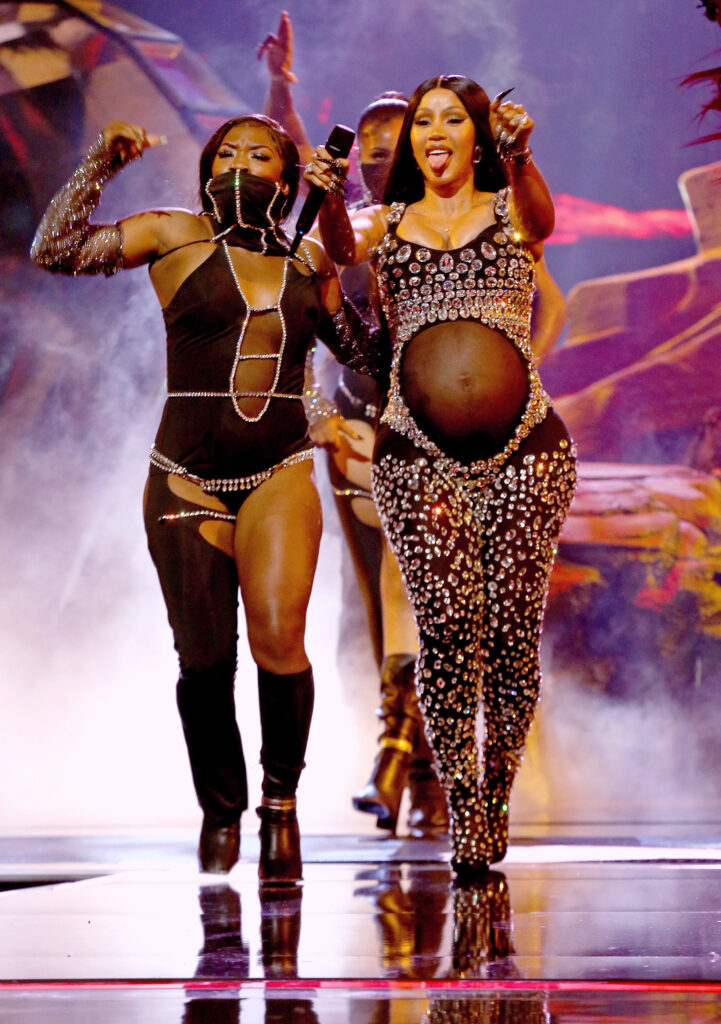 Okay, so we didnt know. We didnt know! Cardi B. baby bump? We didnt know. Damn! Did you know? Oh I guess we forgot to include Cardi B.'s tongue in Question #1 (lol).
Question #5: Could H.E.R. be the next Music Prodigy Like Prince Rogers Nelson?
The funny thing is, last year MadFlavor TV asked H.E.R. what is her favorite thing to play on her guitar and she mentioned Prince's "Purple Rain." After watching her BET Awards 2021 performance where she played the drums, guitar, and sang her 'butt-off', it sparked a conversation within our team. Could H.E.R. be the next music prodigy like Prince? One thing we know for sure is that we are going to see this 'Marvel' the next time she has a concert so that we can enjoy her gifts.
Photo by Paras Griffin, Bennett Raglin, and Johnny Nunez/Getty Images for BET