RESTORING FAITH IN GOOD CINEMA: SUNDANCE FILM FESTIVALS U.S DRAMATIC SPECIAL JURY PRIZE WINNER, CHARM CITY KINGS PREMIERED ON HBO MAX
Have You Ever Wondered What Happened To Those Great Films We Watched Growing Up That Had Beginning Character Scenes So Captivating That You Were Instantly Baited To Watch Until Its End? 
With Character Names Like Mouse, Sweartagawd And Lamont, I Don't Know When Things Fell Off In The Film Industry, But I Do Know That Sherman Payne, Writer Of "Charm City Kings", Has Delightfully Brought That Missing Element Back. 
Winner Of The U.S. Dramatic Special Jury Prize For Ensemble Acting At This Years Sundance Film Festival For Its Cast That Includes Jahi Di'allo (Mouse), Donielle T. Hansley (Lamont), Kezii Curtis (Sweartagawd) And Rapper Meek Mill (Blax). In The Film, The Character Mouse Desperately Wants To Join "The Midnight Clique". They Are The Infamous Group Of West Baltimore Dirt Bike Riders Who Govern The Summer Streets And When Blax, The Leader Takes 14-year-old Mouse Under His Wing, Mouse Soon Finds Himself Torn Between The Road To His Dream Of Becoming A Veterinarian Or The Road Filled With Fast Money And Violence.
"Charm City Kings" Was Presented On Hbo Max To Vip Guests And Press, With An Exclusive Three-day Virtual Premiere (Oct. 7-9) In Support Of B360, Color Of Change And The Reform Alliance. Before The Premiere, Guests Received A Motorbike Themed Package (Curated By Baltimore Artist And Filmmaker Akio Evans) That Included Two Custom Hand-blown Glasses Designed With A Bike Chain On The Side, A Model Bike Made From Nuts & Bolts And A Bottle Opener Created From Refurbished Spark Plugs. Attendees Were Given Access To The Films Virtual Premiere And The Opportunity To Watch Curated Panel Discussions With The Films Cast.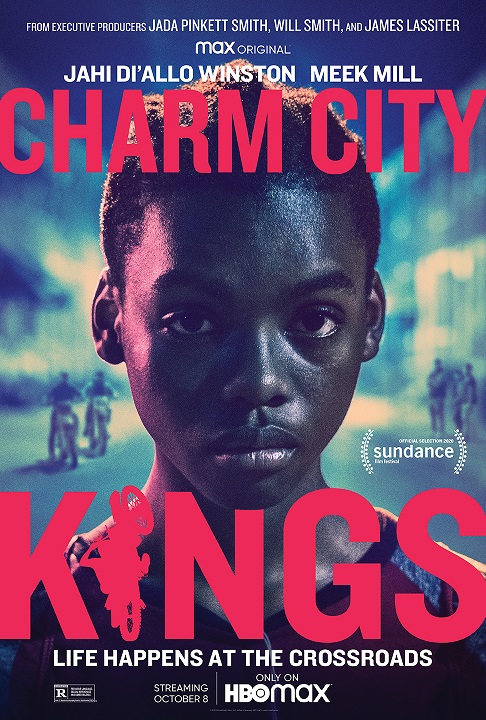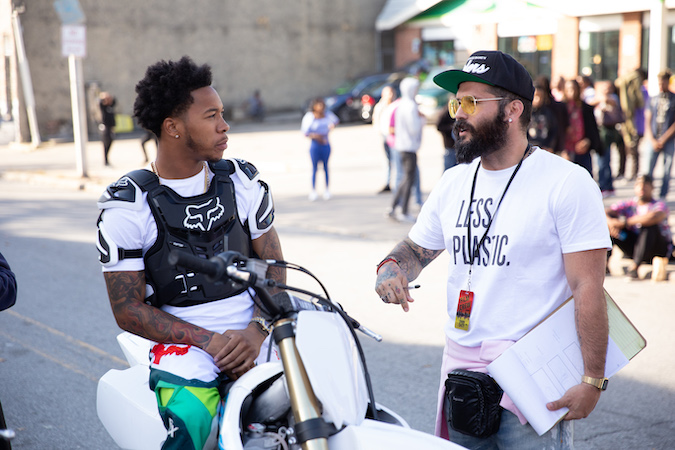 After Watching, It Was Easy For Me To Understand Why This Movie Has Created Such A Stir Of Positive Regards. A Spectacular Cast With A Noteworthy Script, Taking Place In A Gritty Location Seems To Be The Base Formula To Its Accomplishments. I Was Refreshingly Impressed With The Performance Of The Three Young Actors And Their Characters Ability To Charm Their Way Into My Heart. They Were Able To Make Me Feel Like They Were 'Youngins' I Knew Growing Up In The Neighborhood Whose Welfare I Cared About. Over The Two Hours, I Was Taken On An Emotional Roller Coaster Ride Of Suspense, Laugh Out Loud Moments, Genuine Tears, As Well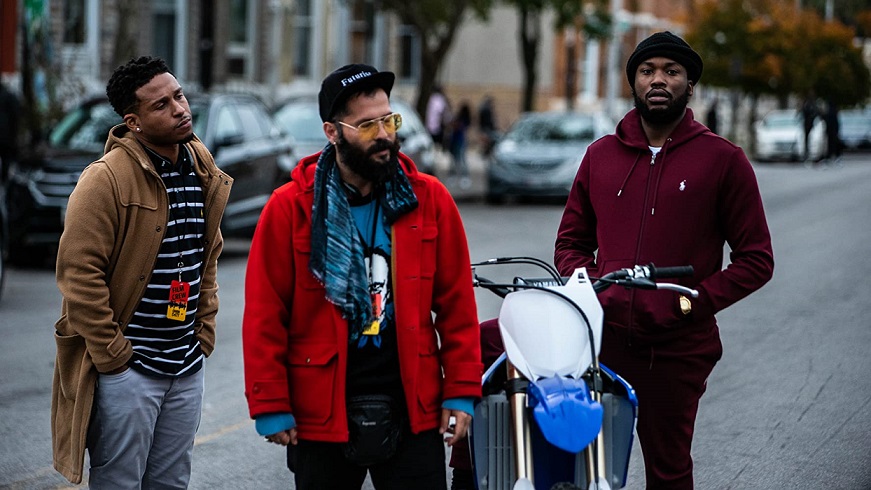 As Inspiration. The Many Words Of Wisdom Meek Mills Character (Blax) Imparts To Mouse On "Being A Man" I Believe Are Enlightening And Seemingly Important For Growing Boys Of Single Mothers To Register And Understand. 
"I Loved The Whole Movie, Start To End I Think They Did An Awesome Job, Especially With Mouses Character", Big Dale (Father + Owner Of Waterworks Auto & Glass) Had To Say After Viewing The Winning Film. "I Definitely Recommend Every Young Urban Kid See It, Particularly Those Boys Thinking About Staying On The Right Path Or Not" He Added. 
Regardless Of Your Age, Gender Or Whether You Live In Urbania Or The Burbs, There Is Something For Everybody In This Film. You Might Not Get The Big Gift Box Full Of Memorabilia But You Will Take Away So Much More In Value. 
The Core Qualities Of Classic Cinema Have Been Restored Through The Next Generation And The Brilliant Direction Of Angel Manuel Soto (Director) & "Charm City Kings" Has Proven As A Heartfelt & Award Winning Film. It's Good To Know That A Script Of Substance Can Still Make It To The Big Screen. You Can Watch "Charm City Kings" With Your Subscription To Hbo Max