Malik Pollard/MadFlavor TV
Mike Ware/M and M Images
OOOH, CeCe Peniston is going to get me for that one. I can just see all of her twitter fans roasting me now in 280 characters. I know I am dead wrong for that one. Especially since CeCe Peniston is one of the most recognizable Dance Music Artists with 5 number one hits on the U.S. Billboard Hot Dance Music/Club Play Charts and her song "Finally" amassed Top 5 on the Billboard Hot 100 List. "Don't kill me CeCe.! The title was only to grab you and the audience's attention." Let me quit while I still have my life (lol).
CeCe Peniston has become a Washington D.C. staple. She often comes to the DMV to perform. So much so that I thought she and I have had to have shared this as our birthplace (I was born and raised in D.C.). However, the Dayton Ohio native tours all over the world and D.C. is just one of many where her fans just 'Can't Get Enough' of her electric performance and on November 15th I would soon find out why.
CeCe Peniston came to the DMV and performed at the City Winery to a sold out crowd. I was lucky to get a seat as a colleague and celebrity photographer said I was cleared to come in and do a review of her show. Once inside, the dinner theater style venue was filled with celebrities including "Sister To Sister " Editor-n-Chief Jamie Foster Brown, Fashion Guru, and Television Host Paul Wharton, Candiace Dillard from  "The Real Housewives of Potomac" Singer/Songwriter Zoe Miller, fellow Dance Music/House Music Artist Shalon Citron, and more. I like going to these style of concerts, where you can sit at a table and enjoy great drinks, food, and music in an intimate setting. There is still enough room to dance and let me tell you, it didn't take long for people to get up out of their seats and started dancing, self included.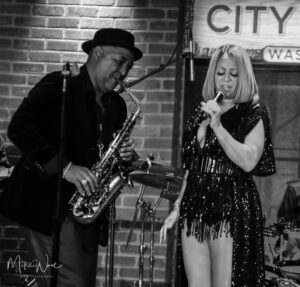 CeCe Peniston gives a great show, and I mean a GREAT SHOW! Saxophonist Art Sherrod Jr. kicked off the show and warmed the crowd with a rendition of Roy Ayers Ubiquity's "Everybody Loves the Sunshine" (Mary J. Blige "My Life" for you who aren't familiar with the original song). The combination of Art Sherrod belting out melodic sounds on the horn while the two CeCe's backup singers (shout out to Gina Rose) interchanged lyrics "If You Looked In My Life And See What I've Seen" and "Everybody Love's The Sunshine" made it identifiable regardless of what era of music you grew up in. After Art introduced CeCe onto the stage, her voice exploded from off stage with the Intro of "Somebody Else's Guy" originally recorded by Jocelyn Brown. We all know the build up to that song, and the crowd were already singing along with CeCe like they were in the shower. CeCe set the tone from the word go with the very first song and she and the band effortlessly switched up the music into different genres interchanging Dance with Hip Hop with Go-Go with R&B. I enjoyed the show from start to finish, and if I had to exclaim which part of the show I enjoyed most, it would have to be what I just stated; remixing songs with combining different musical styles. Also to my surprise, CeCe Peniston gave the audience some smooth R&B with classics from Earth, Wind, and Fire; just to get it hype all over again with "Da Butt" and combining a Chubb Rock dance break where an audience member got up on the stage and dropped it low (Her knees will feel it in the morning).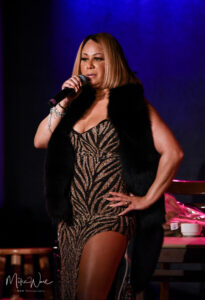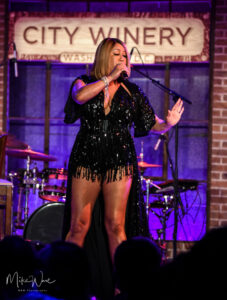 I danced. I sang. I "Aye"-d. I did it all and it was one of the most fun concerts I've gone to. I also learned a lesson that I must share. I am finding that these concerts are far more enjoyable than those 'mega-concerts'. I understand that some folks are selling out arenas and all but there is nothing like having that intimate experience where its like a party and as a bonus, the artist comes out and greets fans, take pictures, and have conversation. CeCe Pensiston, I enjoyed your music before, but now I am a fan of yours and Dance Music 😉