By:  Malik Pollard
Before there were Frank Lucas, Leroy "Nicky" Barnes, and Frank Matthews, the Godfather of Harlem was crime boss Ellsworth "Bumpy" Johnson and beginning September 29th Epix will tell the story of Bumpy Johnson's (Forest Whitaker) return to Harlem after a ten year prison bid. Upon Johnson's return, he finds Harlem controlled by the Italian Mob, and the city in shambles.
Bumpy must take on Lucky Luciano and the Genovese Crime Family  to regain control. During the brutal battle, he forms an alliance with radical preacher Malcolm X – catching Malcolm's political rise in the crosshairs of social upheaval and a mob war that threatens to tear the city apart.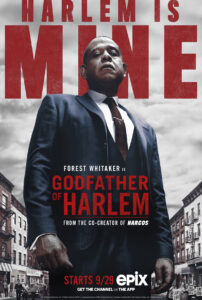 ***EXCLUSIVE PREMIERE ALERT***
ATTENTION WASHINGTON D.C., MARYLAND, AND VIRGINIA Mad Flavor TV fans: Epix (@Epix), MadFlavor TV (@madflavortv) , Indie Central TV (@ICentralTV), and The CoCo Room Podcast (@TheCoCoRoomPodcast) is hosting an exclusive premiere of "Godfather of Harlem" on September 19, 2019. To find out more information, please follow the pages above on Instagram and you will receive the details.
Watch "Godfather of Harlem" on Epix beginning September 29, 2019.